Buthionine Sulphoximine
NDA Filed in china
A gamma-glutamylcysteine synthetase inhibitor potentially for the treatment of solid tumors.
BUTHIONINE SULFOXIMINE; DL-Buthionine-[S,R]-sulfoximine; 5072-26-4; Buthionine sulfoxamine; Buthionine-S,R-sulfoximine; Buthione sulfoximine;
| | |
| --- | --- |
| Molecular Formula: | C8H18N2O3S |
| Molecular Weight: | 222.30512 g/mol |
Buthionine sulphoximine is an oncolytic agent in early clinical development at the National Cancer Institute (NCI) for the treatment of neuroblastoma in pediatric patients in combination with melphalan and bone marrow or peripheral stem cell transplantation.
DATA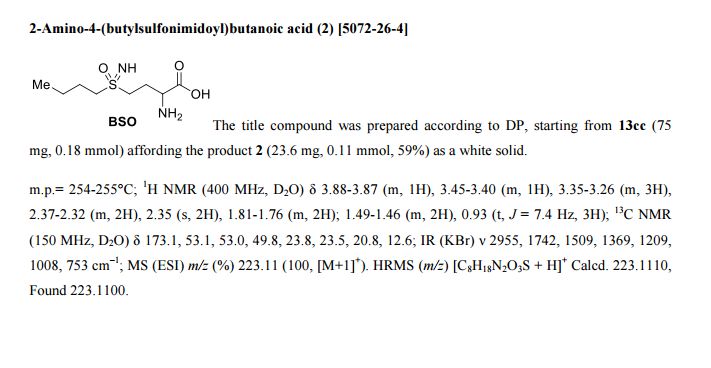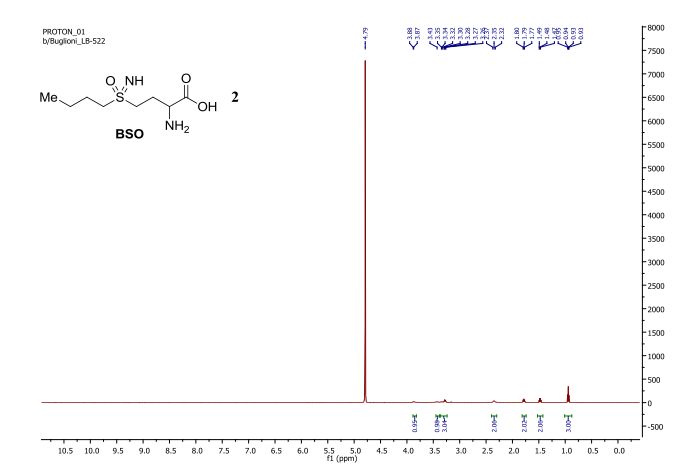 1H NMR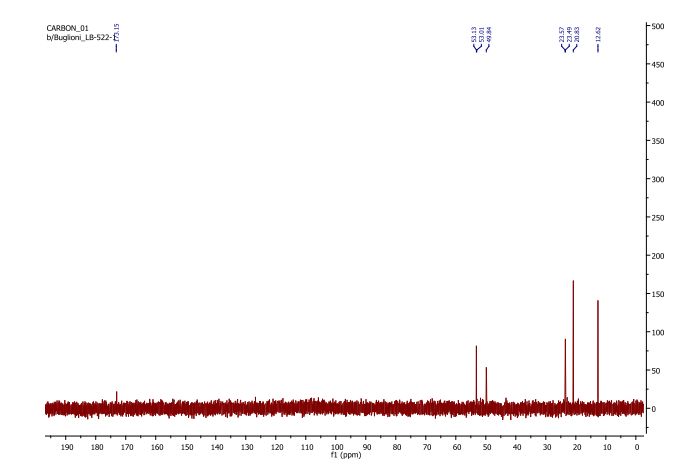 13C NMR
Synthesis
Methionine and buthionine sulfoximines: Syntheses under mild and safe imidation/oxidation conditions
Advanced Synthesis&Catalysis (2014), 356, (10), 2209-2213
Abstract
Methionine and buthionine sulfoximines (MSO and BSO) are non-natural amino acids known to inhibit the biosynthesis of glutathione (GSH). The current syntheses of these biologically active molecules involve harsh reaction conditions and the use of hazardous reagents for the sulfur imidation. Here, improved syntheses of MSO and BSO are presented including safe and mild one-pot imidation/oxidation sequences and single-step deprotections of three different functionalities.
Methionine and Buthionine Sulfoximines: Syntheses under Mild and Safe Imidation/Oxidation Conditions
References
Defty, CL; Marsden, JR (2012). "Melphalan in regional chemotherapy for locally recurrent metastatic melanoma.". Current topics in medicinal chemistry 12 (1): 53–60. PMID 22196271.
Buthionine sulfoximine
Names
IUPAC name


2-amino-4-(butylsulfonimidoyl)butanoic acid

Other names


BSO

Identifiers
CAS Number
5072-26-4
ChEBI
CHEBI:28714
ChemSpider
19896
Jmol 3D model
Interactive image
MeSH
Buthionine+sulfoximine
PubChem
21157
Properties
Chemical formula
C8H18N2O3S
Molar mass
222.305 g/mol
Density
1.29 g/mL
Melting point
215 °C (419 °F; 488 K)
Boiling point
382.3 °C (720.1 °F; 655.5 K)
Except where otherwise noted, data are given for materials in their standard state (at 25 °C [77 °F], 100 kPa).
//
//
NSC-326231, BSO,
5072-26-4, Butionine sulfoximine, Neuroblastoma
CCCCS(=N)(=O)CCC(C(=O)O)N